Duluth GA Deck Pressure Washing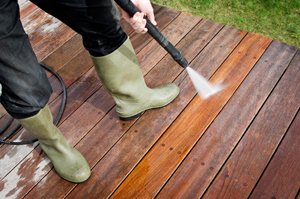 Decks and patios provide homeowners with a place to rest and relax and to enjoy outdoor living in the mild climate of the South. However, over time, exposure to the elements can leave your deck or patio looking dingy and dirty. Since they are outdoors, decks and patios tend to accumulate dust, dirt, pollen, grime, mold and mildew. Having your deck or patio professionally cleaned regularly using high pressure can remove these substances and leave them once again looking like new.
Patio Pressure Washing
The professionals from our exterior surface cleaning company use high pressure to clean decks and patios for residential and commercial pressure washing clients in Duluth and the surrounding areas. Our experienced exterior surface cleaners are experts in cleaning decks and patios constructed of wood, siding, brick, stone and concrete. Our pressure washing professionals know just how much pressure to use on each type of surface to carefully and thoroughly clean them without damaging the surfaces themselves.
Our company has invested in advanced, state of the art pressure washing equipment and employs a staff of experienced, professional exterior surface cleaning experts. We combine the right people with the right equipment to carefully and thoroughly clean your deck or patio and restore their beauty. Our experienced pressure washing company cleans patios and decks for affordable prices with unparalleled customer service.
Realiable Deck Pressure Washing Company
In addition to decks and patios, we also pressure wash the exterior surfaces of homes and buildings, driveways & sidewalks and pool areas. Our exterior surface cleaning company is locally owned and operated and is fully licensed and insured. We have an established presence in Duluth and will be here for many years to come to serve the residents of Duluth and the surrounding areas.
If your deck or patio is in need of pressure washing, please contact our Duluth Deck Pressure Washing Experts today. We will schedule an appointment at your convenience. We look forward to meeting you.