Duluth GA Roof Fungus Cleaning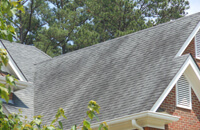 Over time, fungus can grow on the roof of your home or commercial building. Fungus on your roof looks very unattractive and can be harmful to your roof. Having your roof pressure washed to remove the fungus helps to keep your roof in good condition and helps to extend its useful life. In addition, a clean roof makes any home or building look well maintained. However, all pressure washing companies are not alike. You need a company you can trust with the important job of removing fungus from your roof.
Roof Mildew Removal Experts
Our Duluth pressure washing company specializes in exterior surface cleaning including removing fungus from roofs. We serve residential and commercial pressure washing clients in Duluth and the surrounding areas. Our local company removes fungus from roofs for affordable prices with unparalleled customer service.
Our exterior surface cleaning company has invested in advanced, state of the art pressure washing equipment and employs a team of experienced exterior surface cleaning professionals. Our equipment enables are experts to apply the right amount of pressure to carefully and thoroughly clean your roof and remove the fungus without damaging the roof itself. We combine the right people with the right equipment to get your roofing look like new.
Professional Pressure Washing Roof Fungus
In addition to removing fungus from roofs, we also use high pressure to clean the exteriors of homes and buildings, driveways & sidewalks, patios & decks and pool areas. Our employees are courteous and professional and will treat your property with the utmost care and respect.
Our pressure washing company is locally owned and operated and is fully licensed and insured. Our company has an established presence in Duluth and will be around for years to come to provide premium pressure washing services for the residents of Duluth and the surrounding areas. If you give us the opportunity to serve you, we will work hard to earn your trust, your referrals and your repeat business.
If you have fungus growing on your roof, please conact our Duluth Roof Fungus Cleaning Specialists today. We will schedule an appointment at your convenience. We look forward to meeting you.